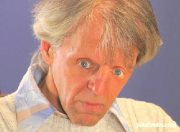 Bob Druwing is an actor who plays himself in
Tim and Eric Awesome Show, Great Job!
Druwing hosts a show called "Druwing on Drawing", in which he instructs his audience how to edit pictures on the computer, without all the artistic talent in the world. He also exhausts himself at the snow party in the episode, "
Snow
".
Ad blocker interference detected!
Wikia is a free-to-use site that makes money from advertising. We have a modified experience for viewers using ad blockers

Wikia is not accessible if you've made further modifications. Remove the custom ad blocker rule(s) and the page will load as expected.