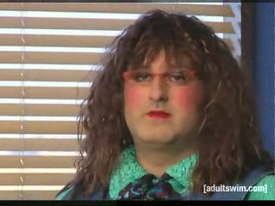 Carol
is a recurring character on the
Awesome Show
, played by
Eric Wareheim
. She is an associate working in an unnamed office who is in love with her boss,
Mr. Henderson
.
Appearances
To show her love for Mr. Henderson, Carol has lost weight for him (.1 pound), and made a sexy video tape for him. She has also endured numerous acts of humiliation, including being made fun of for her weight, having coffee thrown in her face, and having the private video tape aired to all her colleagues in a meeting. After the video was shown, she came close to quitting, but changed her mind when she saw Mr. Henderson enjoying the video while he was alone.
It can be surmised that Carol has a hard time riding a bicycle, as she has been shown falling down on both occasions of riding her bike.
To be Added
To be Added
To be Added
Trivia
Another show on Adult Swim, Sealab 2021, often makes references to their intern, "Chubby Carol".
Ad blocker interference detected!
Wikia is a free-to-use site that makes money from advertising. We have a modified experience for viewers using ad blockers

Wikia is not accessible if you've made further modifications. Remove the custom ad blocker rule(s) and the page will load as expected.