Casey Tatum (played by
Tim Heidecker
) is the front man for the musical group
Casey and his Brother
who often perform during the
Uncle Muscles Hour
. The skit is carried over from a series of promos for Tim and Eric's previous collaborative effort
Tom Goes to the Mayor
. Casey is portrayed as having a very bad case of
Eczema
, is often covered with sweat, tears, and/or saliva, and is usually uncomfortable, easily overcome with extreme, debilitating stage fright, and often on the threshold of either crying or vomiting. He also seems deathly afraid of most of the things he sings about, including hamburgers, hot dogs, horses, and his mother. He was killed in a gigantic van explosion along with
Steve Mahanahan
when he was 17. Later, his remains were found in the woods by a little girl, and he was reanimated by his brother. They sang one more song on the Uncle Muscles Hour before C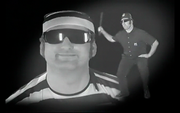 asey's body tragically deteriorated during the performance.

Casey was forever immortalized when Josh Groban performed his songs on Groban Sings Casey .
Songs
Right Way To Rock
Time Travel
Big Ben
Big Spider
Happy Pup
Jungle Gym
Birthday Ribbons
Horse and Buggy Ride
(I Want To Live) In A Choo-Choo Train
Chop Suey
Hamburgers and Hotdogs
Xmas Wish
Taking a Taxi Ride
Casey's Lost
Cookies and Milk
Pick a Four Leaf Clover
Hunting Trip
Alive Again
Cops and Robbers
A Song For Mommy
Ad blocker interference detected!
Wikia is a free-to-use site that makes money from advertising. We have a modified experience for viewers using ad blockers

Wikia is not accessible if you've made further modifications. Remove the custom ad blocker rule(s) and the page will load as expected.