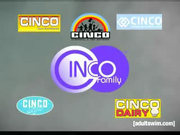 The 
Cinco Family/Corporation
 frequently advertised on
Channel 5
, is a fictional corporation which spans the television and internet works of comedian Bob Odenkirk. From 2007 to 2010, the comedy television program 
Tim and Eric Awesome Show, Great Job!
, served as an outlet for Cinco Products skits.
Carried over from Tom Goes to the Mayor and online material available only on BobandDavid.com, the Cinco Family/Corporation parodies the typical "soulless corporation". A similar corporation called Globo-Chem appears in Odenkirk's Mr. Show.
List of Cinco Products
Edit
Cinco Video Cube Playback System
H'amb
I-Jammer
Sleep Watching Chair
Tairy Greene Machine
Quall and Chain
Urinal Shower
Pasta Bear
Bro-Oche
Food Tube
Cinco Credit Union
Doge
Divisions
Edit
Cinco Chemical & Toy Division
Cinco Dairy
Cinco Farms
Cinco Games
Cinco Home Entertainment
Cinco Insurance
Cinco International Credit Union
The Cinco Library
Cinco Mobile
Cinco Style
Cinco Sweets
Besides producing and marketing products, Cinco also owns a stadium called the Cinco Dome, which was a venue used for a Bread Harrity concert. The Cinco logo made a cameo appearance on a drum set, during Presidents/Awesome (Season 4)
Cinco is also prominent in Tom Goes to the Mayor, one of the many connections TGTTM shares with Awesome Show.
A similar company called 'Stinko' was revealed in the Jim & Derrick episode, used to sell the G.F. Spooner.
Many or all of the products are made by marketing gurus, Mark and Terry Cinco.