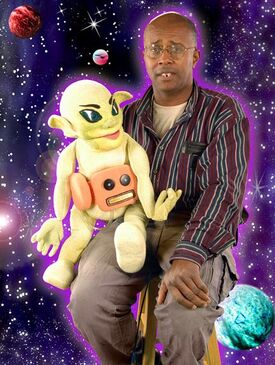 David Liebe Hart (aka D.L. Hart, full name David Nkrumah Liebe Unger Hartmann) is an actor/puppeteer on Tim & Eric Awesome Show, Great Job! and Tim & Eric Nite Live. He made his first appearance on the season 1 episode Salame. He is known for his beliefs in extraterrestrials (known as Corrinians). He usually sings with his puppets for different reasons such as for children to stay in school, the new love of his life, drinking milk to stay healthy. He was featured in The James Quall Story as himself. In real life both he and James are good friends and have worked together for many years on Public Access Hollywood. On Nite Live he is without his puppets, but continues to sing and prays at the end of almost every episode.  In addition to acting David has released a number of music albums including gospel songs and his own originals.  In June of 2014 a Kickstarter campaign was launched to fund a new album by David and electronic producer Jonah "Th' Mole" Mociun.
Links
David Liebe Hart Kickstarter (2014)
David Liebe Hart Facebook Documentary about Public Access Hollywood
Ad blocker interference detected!
Wikia is a free-to-use site that makes money from advertising. We have a modified experience for viewers using ad blockers

Wikia is not accessible if you've made further modifications. Remove the custom ad blocker rule(s) and the page will load as expected.