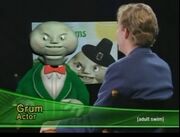 Grum is a CGI animated character who first appeared in the season one episode Anniversary. He performed what appeared to be his signature song "Crackers and Snacks" to the delight and familiarity of the audience.
He later appears in the episode Tennis, in which he is "interviewed" by Glen Tennis to promote Tennis's new animated movie "The Pillgrums", which stars Grum. The Grum character is crudely animated, missing vocal cues and even disappearing from the screen at inopportune moments.
In both appearances, the humor proceeds from the stilted, awkward atmosphere as other characters are obliged to go through the farce of treating such an obviously fake character as "real".
Adult Swim's website erroneously calls him "Grub."
Appearances