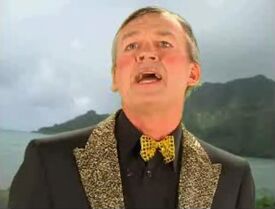 James Quall is a standup comedian that debuted on
Tim & Eric Awesome Show, Great Job!
during season 2. He has also appeared on
Tim & Eric Nite Live
. He is famous for his impersonations of such actors as Bill Cosby, Jack Nicholson, and Gerald Ford. He usually incorporates spaghetti and meatballs into his work. He himself has even been impersonated by comedian
Bill Hader
for the "James Quall Story" feature film. He is also good friends with
David Liebe Hart
, who has saved his career. He co-starred with Jon A. Hill in a film inspired by Rodney Dangerfield entitled 'Back 2 Squall.'
When not acting he works at Little Caesars. [1]
Ad blocker interference detected!
Wikia is a free-to-use site that makes money from advertising. We have a modified experience for viewers using ad blockers

Wikia is not accessible if you've made further modifications. Remove the custom ad blocker rule(s) and the page will load as expected.