Jan and Wayne Skylar are the only married news team in the tri-county area, featured on Channel 5. They made their debut on Tom Goes to the Mayor, where they reported from Jefferton. Their journalism covers a diverse palette, from abstinence to fashion to local parades.
Jan Skylar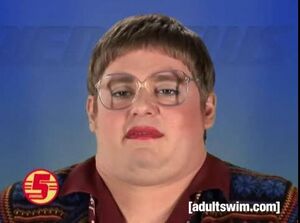 Jan Skylar is bald and wears a wig. She lets plenty of men into her tunnel, other than Wayne. Jan's favorite color is Dr. Steve Brule's penis.
The Divorce
Jan is frequently seen flirting with Dr. Steve Brule, an act that invariably makes Wayne extremely jealous, and ultimately led to the couple's divorce. However, it was quickly annulled, and they reclaimed their title as the only married news team. In the "Home" episode of Check It Out, Wayne appeared to have died from cancer all over his body, but reappeared during a live performance in 2014. He had survived the cancer, but had his lower half paralyzed. He was healed shortly after, and can walk again.
Ad blocker interference detected!
Wikia is a free-to-use site that makes money from advertising. We have a modified experience for viewers using ad blockers

Wikia is not accessible if you've made further modifications. Remove the custom ad blocker rule(s) and the page will load as expected.