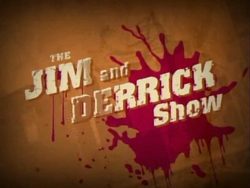 Jim and Derrick is the sixth episode of season 3 of
Tim and Eric Awesome Show, Great Job!
, aired August 31, 2008.
Jim Heckler and Derrick Whipple board, Chug, and get chill with Elisha Cuthbert in "The Zone". Jim takes us to one of his favorite bong shops. Theres a new Vista Fresh Mobile clip of the week, starring: Bradley Needlehead. Holly Browning is here with "Waz the Damage", and damn... DJ Drezz plays it all back. Also, Stinko shows off the new G.F. Spooner. (Elisha Cuthbert and John Mayer guest star)
Length: 24:02
There is no "Great Job!" cut-a-way like most episodes.
Some of the producers at Adult Swim tried persuading Tim & Eric that this idea wouldn't work for a whole episode.
During the ending title cards, an Abso Lutley parody called Egg Zackly is shown. The man is Gregg Turkington, the actor who portrays Neil Hamburger.
The ending title cards are:
Dog Pile Productions (1994-2015)
Dingus Entertainment (1990-2016)
Hung Films (1997-2014)
'Sup! Productions (1992-2013)
Darnit Bros. Entertainment (1985-2017)
Boan (1912-2012) AKA: Boan Inc.
Egg Zackly (2000-2011) AKA: Egg Zackly Corporation