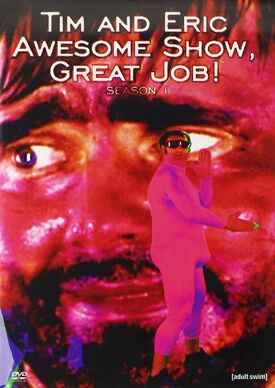 The
First Season
of
Tim and Eric Awesome Show, Great Job!
ran from February 11
th
to April 15
th
, 2007 on
Adult Swim
.
Overview
To be Added
Episodes
No.
Image
Title
Airdate
Code
1
"Dads"
February 11, 2007
101
Tim's dad sends Eric a gift basket, wishing him luck on the new show. Leif and C-Boy square off in Hacky Sack Extreme, Dr. Steve Brule makes a report on fruits and vegetables, and Cinco's new toy, B'owl, makes its debut.
2
"Friends"
February 18, 2007
102
Eric sends Tim an ornamental hot dog after finding out he is dying of "Limp Lip". Channel 5 celebrates Steve Brule's 10 year broadcasting anniversary, Pierre teaches children how to dance, and Tim and Eric write a jingle for Rolos.
3
"Cats"
February 25, 2007
103
Tim learns a new magic trick that runs him into some problems. Tairy Greene teaches new "Gravy Robbers" hires the best gravy robbing techniques, and Jaime Stevens returns home with new-found powers in "Kitty Cat Man".
4
"Salame"
March 4, 2007
104
Tim and Eric give a seminar on how to build a successful sitcom writing career. Steve Mahanahan advertise his Child-Clown Outlet, and David Liebe Hart and his puppet Jason sing about the Corrinians and meeting in the light.
5
"Chunky"
March 11, 2007
105
Carol's secret love for her mean boss finally reaches a boiling point. Danny Mothers interviews Glen Tennis about his new film "Crystal Shyps", and Eric pulls a prank on Tim involving spiderwebs.
6
"Slop"
March 18, 2007
106
Tim and Eric's replacements host this episodes show. The Beaver Boys attempt to pick up some ladies, go clubbing, and enjoy shrimp and white wine. David Liebe Hart returns with a new puppet and a new song about staying in school.
7
"Abstinence"
March 25, 2007
107
Tim and Eric discuss their plan of replacing their crew with elderly men. David Cross sings about abstinence to a locker-room porn star, and Channel 5 provides live coverage of the "No Sex Hot Dog Parade".
8
"Hamburger" *
April 8, 2007
109
Tim and Eric must rely on Hamburger Taxi to get their episodes tape delivered on time. Dr. Steve Brule educates us on digestion problems. Michael Q. Schmidt debuts his new dance to win the "Uncle Muscles Grand Championship".
9
"Anniversary" *
April 1, 2007
108
Awesome Show celebrates its 50th anniversary, but Tim and Eric haven't spoken to each other since an unfortunate incident. Bob Odenkirk advertises "E-Z Kreme", and Cinco advertises their handy "MIDI Organizer Filing System".
10
"Missing"
April 15, 2007
110
The Uncle Muscle's Hour is disrupted when Casey wanders off and his brother is forced to adapt to life without him. Dr. Steve Brule delivers a report about modern fashion, resulting in some tension between Jan and Wayne Skylar.
Note: A * indicates episodes that were originally aired out of their intended order according to Adult Swims website.
Gallery
To be Added
Trivia
Every episode of this season was rated "TV-14" except for "Abstinence", which was rated "TV-MA" for sexual content.
---
Ad blocker interference detected!
Wikia is a free-to-use site that makes money from advertising. We have a modified experience for viewers using ad blockers

Wikia is not accessible if you've made further modifications. Remove the custom ad blocker rule(s) and the page will load as expected.