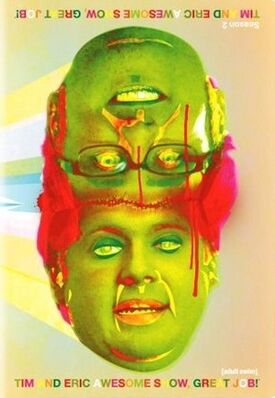 The
Second Season
of
Tim and Eric Awesome Show, Great Job!
ran from November 18
th
, 2007 to January 27
th
, 2008 on
Adult Swim
.
Overview
To be Added
Episodes
No.
Image
Title
Airdate
Code
1
"Vacation"
November 18, 2007
201
Casey's fate is revealed from the previous seasons finale. Eric returns from vacation with a video created by his new best friend, Raz, detailing their exploits, but instigates awkward jealousy from Tim.
2
"Dad's Off"
November 25, 2007
202
Drama ensues when Eric has to compete for his children's respect, against the coolness of the Heidecker family. Spagett attempts to spook people on his hidden camera show, and David Liebe Hart sings his love for one of his puppets.
3
"Forest" *
December 16, 2007
203
Tim is attacked by a creature while taking nature photos, and must be rescued by a mysterious man known only as "The Snuggler". We are introduced to Greg, a man whose petite feet that are often confused with the sound of a ladies.
4
"Dolls" *
December 2, 2007
204
Tim and Eric check out the new line of dolls to promote the show, but there is something wrong with Tim's doll. The Beaver Boys are rushed to the emergency room when the level of shrimp in their systems becomes dangerously high.
5
"Coma" *
December 9, 2007
205
Tim announces he's having a birthday party on Saturday and Eric is invited. Cinco advertises their new doll called "My New Pep-Pep", Jeff Goldblum promotes "Wait Mate", which allows you to sleep through waiting periods.
6
"Robin" *
January 6, 2008
207
Eric gives Tim his own Robin Williams as a gift that soon proves to be out of control. The Cinco Library advertises their new Encyclopedia of Numbers, and Richard Dunn hosts his own talk show "DUNNGEON".
7
"Carol" *
December 23, 2007
206
Carol's boss taunts her and screens a private sexy video tape intended for his eyes only. Cinco advertises their new edible toy product "Candy Tails", and Glen Tennis peddles "Crystal Shyps" novelty items on Shopping Indoors.
8
"Innernette"
January 13, 2008
208
"The Innernette" is released, Cincos new product which packs all of the Internet onto one tiny CD-ROM. The Jeff GoldBluMan Group makes a presentation, and a new method of making art using your house cat is introduced.
9
"Pepperoni"
January 20, 2008
209
In the documentary "Breadheads", two middle-aged mothers are obsessed with a children's singer. K.J Nutt hosts the show "Hobby Holes", and Tim and Eric make a jingle for actor Tom Skerritt.
10
"Embarrassed"
January 27, 2008
210
Eric shares a naked baby picture of Tim with the audience. Angry and humiliated, Tim later confronts Eric in the parking lot, which leads to a violent confrontation. Dr. Steve Brule reports on the latest trends from the region's hottest vineyards.
Note: A * indicates episodes that were originally aired out of their intended order according to Adult Swims website.
Gallery
To be Added
Trivia
To be Added
---
Ad blocker interference detected!
Wikia is a free-to-use site that makes money from advertising. We have a modified experience for viewers using ad blockers

Wikia is not accessible if you've made further modifications. Remove the custom ad blocker rule(s) and the page will load as expected.