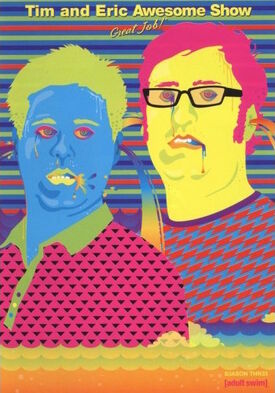 The
Third Season
of
Tim and Eric Awesome Show, Great Job!
ran from July 27
th
to September 28
th
, 2008 on
Adult Swim
.
Overview
To be Added
Episodes
No.
Image
Title
Airdate
Code
1
"Resurrection"
July 27, 2008
301
The third season begins as Tim inherits a gift from the grave - creating porcelain tiger statues out of thin air. and The two start a business capitalizing on Tim's special gift, and Dr. Brule helps advertise a Panini Press.
2
"Chan"
August 3, 2008
302
Channel 5 celebrates 100 years of Jackie Chan! Frustrations are revealed on Quilting with Will, Steve Mahanahan advertises a child clown training video, and A rat-tailed Tim carries on an illicit sexual romance with Eric's wife.
3
"Rascals"
August 10, 2008
303
Bob Odenkirk tries to fix Tim and Eric's relationship after Tim kills Eric's rascal. Cinco introduces the Cinco-Fone, and Tairy Greene teaches a child acting class.
4
"Spagett"
August 17, 2008
304
Spagett goes Hollywood with the help of Steven Spielberg in a very Indiana Jones-like film, a friendship is threatened, and love is not always hard.
5
"C.O.R.B.S"
August 24, 2008
305
The C.O.R.B.S. attempt to stop a group of Colombian terrorists trying to take over a sugar factory. Grill Vogel teaches how to hug appropriately in a workplace, and the Cinco Eye Tanning System is advertised.
6
"Jim and Derrick"
August 31, 2008
306
Jim and Derrick board, chug, and get chill with Elisha Cuthbert in the zone. Also featuring Bradley Needlehead announcing he's crazy on a viral video, "You've been bonged!", and damn... Drez plays it all back.
7
"Jazz"
September 7, 2008
307
Tim and Eric lead their jazz band through jazz chatter scats. The Beaver Boys visit a restaurant and come into contact with some shrimp and white wine. How do you truly clean up after your cat? Maria Bamford has the answer.
8
"Muscles for Bones"
September 14, 2008
308
A Channel 5 Live broadcast special of the "Muscles for Bones" benefit for Richard Dunn. Starring Richard Dunn, David Liebe Hart, Casey and his Brother, Uncle Muscles, Steve Brule and more!
9
"Larry"
September 21, 2008
309
Larry gets jealous of Mr. Henderson and Carol's relationship. Also, "Burps" with Tim & Eric, Tairy Greene's acting class, and Bobby Stoans performance on the Channel 5 Child Showcase.
10
"Brownies"
September 28, 2008
310
Tim's mother makes homemade brownies, inciting a fatuous binge that culminates in a dream of Brownie Mountain. Richard Dunn hosts "Shot Dunn", and Dr. Steve Brule explains stomach doubling.
Gallery
To be Added
Trivia
This is the only season in the series to have all of its episodes aired in the intended order.
---
Ad blocker interference detected!
Wikia is a free-to-use site that makes money from advertising. We have a modified experience for viewers using ad blockers

Wikia is not accessible if you've made further modifications. Remove the custom ad blocker rule(s) and the page will load as expected.