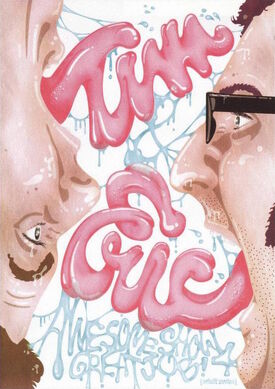 The
Fourth Season
of
Tim and Eric Awesome Show, Great Job!
ran from February 9
th
to April 12
th
, 2009 on
Adult Swim
.
Overview
To be Added
Episodes
No.
Image
Title
Airdate
Code
1
"Origins" *
March 16, 2009
406
We are thrown back to Philadelphia, 1996, where Eric first meets Tim (known as Q back then). The two become fast friends, Q changes his name to Tim, and the both of them attempt to launch a website. A group of men try and make a woman's Bub-Bubs bounce. A naked-faced man learns about the Cinco Mouth Decorator. As part of Science Week, Dr. Steve Brule taps into Jan Skylar's emotions.
2
"Snow" *
February 9, 2009
401
When a blizzard snows in Tim and Eric, they reminisce over hot chocolate and urine with David Liebe Hart and Richard Dunn. The D-Pants are introduced, as well as the Cinco Napple.
3
"Balls" *
February 15, 2009
402
Eric has a third testicle implanted in his body for "more pizazz", but it eventually becomes a problem. The Cinco Urinal Shower is introduced. We see previews for a show called "Whoopsie Daisy", wherein Whoopsie Goldberg has a camera following her around to document embarrassing moments her life. Frank Stallone sings a song for his daughter.
4
"Universe" *
February 22, 2009
403
Doctors Jimes Tooper and H. Donna Gust examine and discuss the mysteries of the universe. "Gettin' It Dunn" with David Liebe Hart. All the food is poison. The Zillions crew. Discount Prices vs. Premium Prices.
5
"Tommy"
March 9, 2009
405
Tim and Eric hire Tommy Wiseau to direct a "Pig Man" sketch for them. Features clips from "The Room". Cinco introduces the Mancierge service.
6
"Road Trip" *
March 1, 2009
404
Tim and Eric head down to Florida for a road trip to have a house party and enjoy Eric's parents' loving warmth. Gorb, a salesman promotes the Cinco Boy Synthetic Son. Scenes are shown from the Channel 5 TV movie "Back to Squall" starring Jonah Hill, James Quall, and David Liebe Hart.
7
"Brothers Cinco" *
April 5, 2009
409
A short film featuring the "Brothers Cinco", Mark and Terry. During CincoCon, Terry is officially charged with the murder of his wife Lynn. The company rolls out their "E-Trial" software, which takes the place of an actual criminal trial.
8
"Hair"
March 29, 2009
408
Cinco introduces the C-Bund. Tim graduates from barber school. Song Legends Karaoke presents Jim Furns' song, "Live with My Dad." J.J. Pepper's Videography ad guest stars Will Forte. Josh Groban sings Casey's hits.
9
"Tennis" *
April 12, 2009
410
Tim and Eric engage in a high-stakes game of tennis, while Richard Dunn presides. Meanwhile, Glen Tennis sits down with Grum to discuss the release of their latest film and Spagett becomes the spokesman for the new Cinco product Cigarette Juice.
10
"Presidents" *
March 24, 2009
407
Ben Hur hosts The Ben Hur Show Awesome. Tim and Eric both want to be President during a press conference. Includes a Kid Break about bloody nipples, and Channel 5 Presents The Human Body with Dr. Steve Brule.
Note: A * indicates episodes that were originally aired out of their intended order according to Adult Swims website.
Gallery
To be Added
Trivia
To be Added
---
Ad blocker interference detected!
Wikia is a free-to-use site that makes money from advertising. We have a modified experience for viewers using ad blockers

Wikia is not accessible if you've made further modifications. Remove the custom ad blocker rule(s) and the page will load as expected.