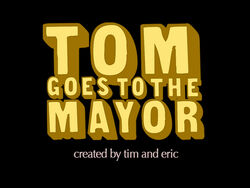 Tom Goes to the Mayor
was a show on the Adult Swim programming block featured on Cartoon Network from November 2004 to July 2006. It was a show about
Tom Peters
, a newcomer to the town of
Jefferton
, and his clash of ideas with
The Mayor
of Jefferton. All together there were 30 episodes spanned that 2 seasons. In April 07' the complete series of the show was made available on DVD.
Origins
Tom Goes to the Mayor started as a web video featured on Channel101.com and after being seen by comedian/producer Bob Odenkirk a second web short was made called "Tom Goes to the Mayor Returns" which featured Bob's friend David Cross. This was then shown to Cartoon Network where they greenlighted it to become a tv show. These web shorts are featured on the DVD of the complete series.
---
Ad blocker interference detected!
Wikia is a free-to-use site that makes money from advertising. We have a modified experience for viewers using ad blockers

Wikia is not accessible if you've made further modifications. Remove the custom ad blocker rule(s) and the page will load as expected.